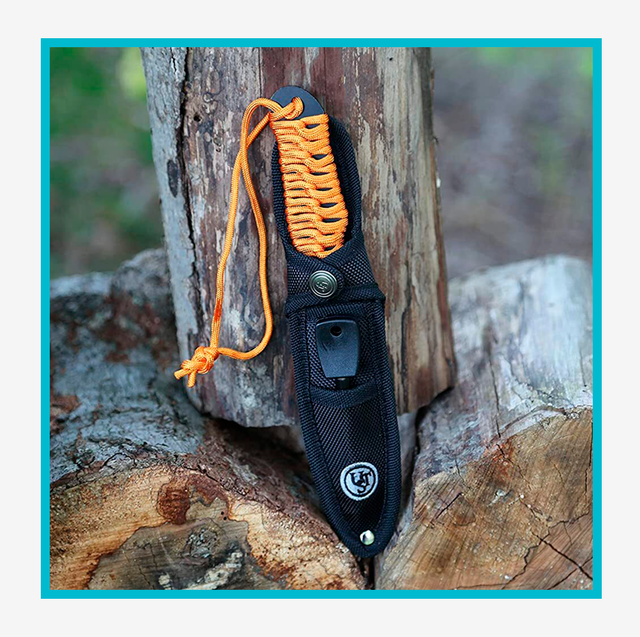 UST
There's scarcely been a better time to get outdoors. Just pack a sense of determination, grit, resilience and most importantly, a good camping knife.
When you're up against nature, you're only as strong as the tools in your arsenal, and you can count on a reliable camping knife to work as hard as you do. Bushcrafting? No problem. Scaling fish and starting a fire for dinner? Done. Suddenly up against a wild predator? Well, you'll live to tell the story. When it comes to finding the best camping knife, keep in mind the type of activities and challenges you anticipate going up against.
More than anything, your camping knife should feel comfortable and secure in your hands. But we're not opposed to good looks. Whether it's a quick trip to the local state park, or you've opted for survival camping, here are the best camping knives for your next adventure.
Advertisement – Continue Reading Below
Gerber StrongArm Serrated Fixed-Blade Knife
The ultimate serrated fixed-blade knife for camping and everyday backpacking, the Gerber StrongArm wields a partially-serrated, ceramic-coated 4.8'' full-tang 420HC steel blade. Balanced and built to perform at 10.9 ounces, you can put the StrongArm to task with everything from hacking and sawing branches, to preparing the night's campfire dinner. Hailing from Portland, Oregon, Gerber's StrongArm is made in the USA.
Leatherman Free K4 Multi-Tool
Does anyone really feel prepared with just one tool when they're in the wild? The Leatherman Free K4 Multi-Tool carries its weight as a multi-functional knife tool. The best lightweight multitool alternative to your larger go-to camping knife, the Free K4 delivers eight tools in one. At 3.3'' the stainless steel 420HC knife is sharp and its ergonomically-refined aluminum body is sure to mold nicely to your hand. What are the bonus prizes? A nifty pry tool, awl, bottle opener, and various screwdrivers that will alleviate unexpected headaches. 
Helle Utvaer Knife
Handmade in Norway, the Helle Utvaer is a remarkably strong full-tang, fixed-blade knife that sizes up with a 4.0″ Sandvik 12C27 steel blade. Crafted with an eye for handsome-yet-serious functionality, the Utvaer 4.7″ curly birch wood handle contours nicely to the hand. The Utvaer is a must-have survival knife for everything from bushcrafting to cleaning fish and wildlife, and this Nordic tool is crafted to withstand even the grittiest of camping tasks with style. 
Benchmade 15031-2 North Fork Knife
rei.com
$160.00
One of the best foldable hunting knives, the Benchmade North Fork Knife features a 2.97'' CPM-S30V stainless steel drop-point blade and weighs in at 3.2 ounces. Ambidextrously crafted for right and left handed campers, the knife's dual thumb-stud opener sits within a stabilized wood handle that is made to resist nature's harshest elements. With the North Fork, breakfast, lunch and dinner are done – if you're up for the catching.
UST Full Tang ParaKnife FS 4.0 with 4 Inch Serrated BladE
Prepare to go up against the elements in confidence with the UST Full Tang ParaKnife FS 4.0. The best all-purpose backpacking knife that won't break the bank, the ParaKnife FS 4.0 slices its way to the top with a 4″ rust-resistant serrated blade. Its handle is wrapped in 6' of spare paracord, so you can grip assuredly for a smooth, steady slice. Need to start a fire in a pinch? The integrated magnesium fire starter has you covered. 
Swiss Army Hunter Pro Alox Pocket Knife
The handy Swiss Army Hunter Pro Alox pocketknife is just as versatile going up against tough jobs at home as it is out on the trail. A great hiking knife, it's built to lock securely for situations where you need to get the job done, even with one hand. The straight-edge 5'' stainless steel blade is set within a durable and contoured Alox scale-designed handle. No doubt you'll glide from the backyard to the woods with this one. 
Opinel No. 8 Beechwood Handle Knife
Handsomely crafted and set in a beechwood handle, the Opinel No. 8 knife is lightweight and shines with a 12C27 Sandvik stainless steel blade. One of the best lightweight everyday carry camping knives, the anti-corrosive blade stands up to even the hardest of jobs—whether that's cutting through tough rope or survival sustenance containers. If you're willing to share the love, the No. 8 is simply a beautifully crafted knife that you'll want to pass down or gift to a family member or close friend.  
Spyderco Delica 4 Lightweight Signature Folding Knife
Handle this weighty Japan-made beauty with care. With a 2.9″ VG-10 stainless steel blade, the Spyderco Delica 4 looks, feels and performs like an elegant workhorse. The stripped down, yet beautiful design of the Delica 4 makes it a practical camp kitchen knife. Slice through meat, fruit and vegetation, and admire some of the Delica 4's best features, including unmatched ergonomics, a sleek, elongated jimping and its 4-way clip design.  
This content is created and maintained by a third party, and imported onto this page to help users provide their email addresses. You may be able to find more information about this and similar content at piano.io
Advertisement – Continue Reading Below