Getty Images
Tiger Woods is back in action. The 15-time major champ tees off in the first round of the Memorial Tournament at 1:17 p.m. ET today, which will be his first competitive round in five months.
Woods' last start on Tour was at the Genesis Invitational on Feb. 16, where he struggled on the weekend and finished 68th. He took time off afterward and even skipped the Players Championship, with his agent saying his back wasn't ready. The Players was canceled after one round due to the Covid-19 pandemic, but the Tour returned in June and Woods didn't play in the first five events. The only other appearance Woods has made since February was at the Champions for Charity match with Phil Mickelson, Tom Brady and Peyton Manning in May. Woods looked sharp then, playing at his home course of Medalist.
Now he's back at Jack Nicklaus' Memorial at Muirfield Village, a tournament Woods has won five times in his career.
"Physically, I feel so much better than I did [at the Genesis]," Woods said on Tuesday. "I've been able to train and concentrate on getting back up to speed and back up to tournament speed, so how I was moving at The Match and being able to progress since then, being out here [Tuesday] and being able to play with J.T., it was a lot of fun for both of us."
Woods is grouped with Rory McIlroy and Brooks Koepka for the first two rounds of the Memorial. Their opening round begins at 1:17 p.m. ET on Thursday, and you can follow all of the action with our live blog below.
Memorial Tournament Tiger Woods live blog
How to watch the Memorial | Memorial tee times | Memorial odds
Refresh for latest updates
18th hole — par-4
Nice way to finish the round for Tiger. Finds the fairway off the tee and then hits a sweet 9-iron at the right side of the green, which holds up somewhere inside 15 feet. He'll have that for a closing birdie.
And…he poured it in! Wow, that felt like a big one. Sure, it's just one shot different, but there's some sort of mental victory to finishing the first round under par instead of even. That's a 1-under 71 for Tiger Woods. Stay tuned for GOLF.com for more as we wrap up coverage on Day 1 at the Memorial!
17th hole — par-4 (par)
Time for a rebound? Nearly. After finding the fairway bunker with 3-wood off the tee, Tiger hoists a perfect-looking approach but it just gets stuck on the top ridge, leaving a touchy two-putt instead of a good look for birdie.
After trickling his first putt some four feet past the hole, he drains the comebacker. Time to finish this thing off — even par feels like it would be a satisfying end to the day.
16th hole — par-3 (bogey)
If you're a believer in momentum, well, it really just stalled out for this group. After a lengthy wait on the tee, Tiger's tee shot finds the left bunker, and from there he hacks one over the green to the rough beyond the pin. An up-and-down from there leaves him with a bogey — and back to even par.
15th hole — par-5 (birdie)
Whoa. After laying up to just over 100 yards, Tiger just hit a wedge to the front edge of the green that got such a good kick it nearly rolled into the hole. When I say kick-in bird, I really mean it. You, dear reader, could finish this one off with your foot. Woods to -1.
14th hole — par-4 (par)
Tiger finds the fairway with an iron on the short par-4 14th, leaving about 126 yards. From there, he hits a wedge that feeds off the back edge and ends up just long of the hole. Should have some 12 feet coming back for his birdie. Nice shot!
But he just leaves the putt on the high side. We've stalled out here slightly, I'm afraid.
13th hole — par-4 (par)
Tiger tries cutting the corner left on this tasty par-4, and bites off a bit more than he could chew. His approach will come from the rough. It'll be short, though. Just 91 yards left.
Nice lie but Tiger catches a flier with his wedge and bounds over the back edge. Neat hack from the rough with his third, and it looks like he'll have 3 feet left for par. Makes it.
12th hole — par-3 (par)
The 12th is playing 169 yards today, all carry over a water hazard. What does the best ball-striker the world has ever seen do? He hits it exactly pin high. Tiger makes a poor putt attempt from there, though. Plays way too much break off the right side and it just wasn't there. Taps in for another par. Ho hum.
11th hole — par-5 (par)
Another big, smooth tee shot for tiger on the par-5 11th. Big cut into the fairway. Didn't get it 300 yards out there, but should have a decent angle to take on the green in two… from 271 Tiger lays up! Didn't see it being worth it, and you can't blame him. The winds are whipping in Columbus. Tiger flights a low-stinging iron about 200 yards up in the fairway. He'll have 75 yards to the hole … and from there he flights it in to 80 yards and zips it back a touch. Will have eight feet left for birdie, which some of you may know is about a 50% make percentage. … Tiger burns the right edge from above the hole and it doesn't drop. He was less than pleased. Another par.
10th hole — par-4 (par)
Tiger rips driver on the 10th, a 475-yard beast, and it runs through the fairway into the first cut… From 147 away, Tiger hits a low, punchy draw that finds the middle of the green. Twenty feet left for his birdie try … but it doesn't go. Tiger's uphill try doesn't quite reach the hole and misses on the low side. No bother, though. Tap-in pars are good for the scorecard. Everyone knows that.
9th hole — par-4 (par)
Tiger smooths a fairway wood out into the right edge of the fairway. He's hit four of six fairways thus far. The 9th is playing 413 yards today, so it's just a mid-iron for Tiger … hits it to 32 feet. Pretty average shot for Tiger. Two putts from there for a par. Not an easy hole, we should say. 4.25 scoring average on it today so par is plenty good. Even par 36 on the front for Tiger. That's a solid score, folks.
8th hole — par-3 (bogey)
The 8th is playing very short today. Players are a tee up from normal and the pin is short, but it's a dicey little shot and Tiger HATES his approach. Immediately starts walking after it.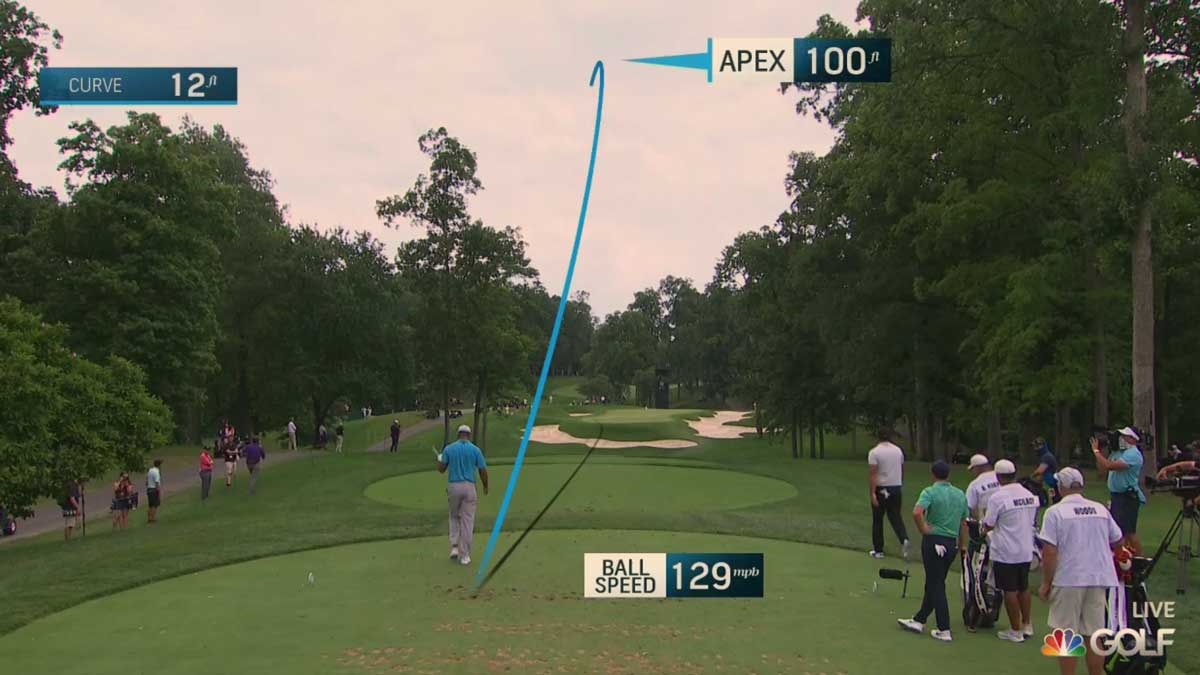 Forced to chip on and he leaves it short. Bogey coming here …. From 24 feet, Tiger plays about three feet of break and cozies it down to the hole and barely misses the par-saver. Second bogey of his day. Back to even par.
7th hole — par-5 (par)
The 7th is playing 567 yards today. Wind into the players most of the way. Plenty long, even for Bryson! Tiger finds the fairway with a 279-yard tee shot. Super smooth swinging from TW … He ends up ripping 3-wood from 290 out and it flies into a greenside bunker. Will have about 82 feet to the hole, not an easy bunker shot….Splashed out and it rolls 10 feet by. Will have that for a third birdie… Makes a good stroke on it but the putt dives at the end. Tap in par.
6th hole — par-4 (bogey)
Tiger has now missed his second straight fairway, finding the left rough on 6. Tiger still won't have much into the green but we'll see how his lie is…. Tiger misses the green short and right, but with a bunker to clear and the pin in front, that might have been intentional. He'll have to get up and down from there for par. First time he's scrambling all day….Tiger chips it to about 8 feet short of the hole, so no gimme here, and he misses on the right side. His first bogey of the day. He's now one under after six.
5th hole — par-5 (par)
First par-5 of the day for this group. Tiger is two under, Rory one over and Brooks two over…. Tiger hits a little stinger that fades but stays in the rough. First missed fairway of the day for him…. Tiger just advances the ball out of the thick stuff and then has about 220 in. He finds the right side of the green about pin high. Birdie putt from about 40 feet coming up…. Easy two-putt from Tiger from there. That's another par.
4th hole — par-3 (par)
Tiger finds the green, about 50 feet or so behind the pin. Safe shot. Not bad….. Nice two-putt from Tiger from 53 feet. Great speed and easy par. On to the 4th.
3rd hole — par-4 (birdie)
Tiger takes an iron off the short par-4 3rd and finds the fairway. Three holes, three fairways. Koepka finds the water off the tee for the second straight hole…. Wow. Tiger sticks it to tap-in range on 3. From 107 he spins back a wedge to about a foot. That will be an easy birdie. What a start. Two under after three.
2nd hole — par-4 (par)
Now to the 450-yard par-4 2nd. Woods takes less than driver off the tee again. Quick club twirl and it's down the center of the fairway….. Tiger with just a wedge into a right pin on 2, but it stays out to the left and he'll have about 20 feet for birdie. He's not real happy with that one. Koepka drove his tee shot into the water, so he's putting for par….Easy two-putt for Tiger. He heads to the 3rd one under.
1st hole — par-4 (birdie)
Brendan Steele is the clubhouse leader at four under, and now Tiger Woods, Rory and Koepka are heading to the first tee. Opening hole is a 473-yard par-4, and Rory and Brooks both find the right rough. Tiger takes a fairway wood off the tee and finds the fairway. And we are off….Tiger has 145 in and hits it to about 12 feet, right past the hole. Good look for birdie on the opener….. Tiger drains it from 10 feet for birdie. What a start! One under after one.