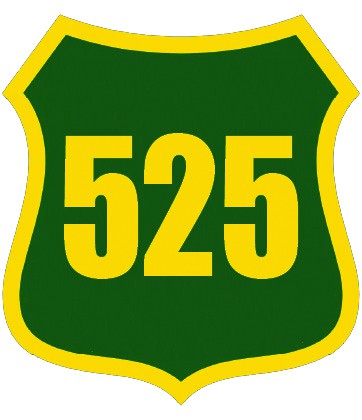 525 Overrun: Since the start of the COVID-19 pandemic, the federal land west of Sedona that includes the western foothills, Forest Road 525 and Bill Grey Road has seen a dramatic increase in camping and public use. This is the first in a series of stories
It's red rock county, but without the city.
The foothills of the Red Rock-Secret Mountain Wilderness Area west of Sedona mesmerize with their views of sculpted cliffs and rolling desert hills.
The area starts around the Bear Mountain Trailhead on Boynton Pass Road and extends to Honanki Heritage site. It can be accessed from State Route 89 via Forest Road 525 or from West Sedona via Dry Creek Road and Boynton Canyon Pass.
If you can find a quiet spot, the western foothills feel tranquil — the setting in the Western where the cowboy would gaze thought­fully into the distance before riding back into town to shoot up the bad guys.
And there are other draws besides the natural beauty: The U.S. Forest Service allows free dispersed camping off sections of Forest Roads 525 and 525C, rare in red rock country — banned in Sedona — and there are more off-highway routes here than other Sedona-adjacent places, making it a magnet for OHVers.
"It's beautiful, its remote, there's animal life," said Charley Pitcher, who lives in a residential island off Forest Road 152C, adding that the area is only 20 minutes from Sedona. Many such parcels are former homesteads or ranches surrounded by U.S. Forest Service land.
This combination of attributes makes it too good of a deal to pass up for many campers and OHVers.
Multiple people familiar with the area agreed that its popularity jumped noticeably about six or seven years ago and continued to grow since. Then during the pandemic, when outdoor recreation swelled nationwide, the problem reached a crisis level.
RV lifestyle website Drivin' & Vibin' recently publishing a list of "10 boondocking spots overrun with RV campers right now," and Forest Road 525, dubbed "The Main Drag" by RVers, is the first on the list.
John Artley, a fire prevention officer for Coconino National Forest who spent much of the COVID-19 pandemic patrolling the area, said "the resource damage and amount of people driving off road creating new campsites is out of control and very noticeable."
"I feel like that area has reached its maximum level of usage," said Jason Danoff, a USFS-permitted guide with years of experience in the 525 corridor. "We need to address that the land is being overused."
Residents in the few homes in this area are also sounding the alarm, rallying under the banner of a group called Save Bear Mountain, named after the mountain that looms over the southern part of the wilderness foothills.
They say the usage is even greater than what is observed by officials during the day. Locals talk of late-night parties and "nightcrawlers," campers who arrive after dark and slip out early in the morning.
Dustin Ross, who operates the Windmill Mountain Ranch headquar­tered off 525 with his wife Becki, said that camping areas sometimes double or triple in occupancy after the sun goes down.
The U.S. Forest Service defines "dispersed camping" as camping outside of designated campgrounds in areas where there are few or no amenities like toilets or trash cans. Throughout the country, USFS desig­nates certain forest roads as "motor­ized dispersed camping corridors," where camping is allowed anywhere within a certain distance from the roadway. On most of FR 525 and FR 525C, dispersed camping is allowed within 30 feet of the roadway, 300 feet in some areas.
A common refrain among observers of the 525 corridor is that the number of dispersed campers has simply exceeded what a desert with highly erodible soils can recover from, leading to new clearings and roads forming at an alarming rate. Without plants or a cryptobiotic crust protecting the dirt, erosion accelerates.
On Halloween, Becki Ross said she counted 133 campsites in just the first two miles of 525. Residents also said campers regularly use roads and areas near water tanks where camping is prohibited — not to mention camping off Bill Gray Road further south.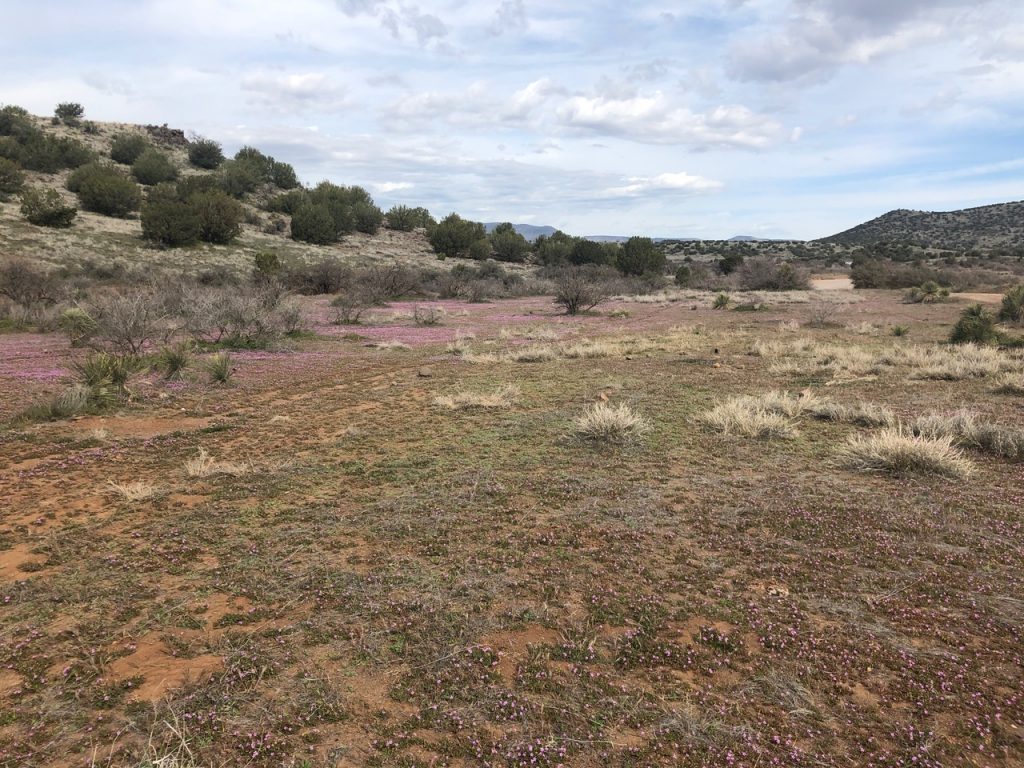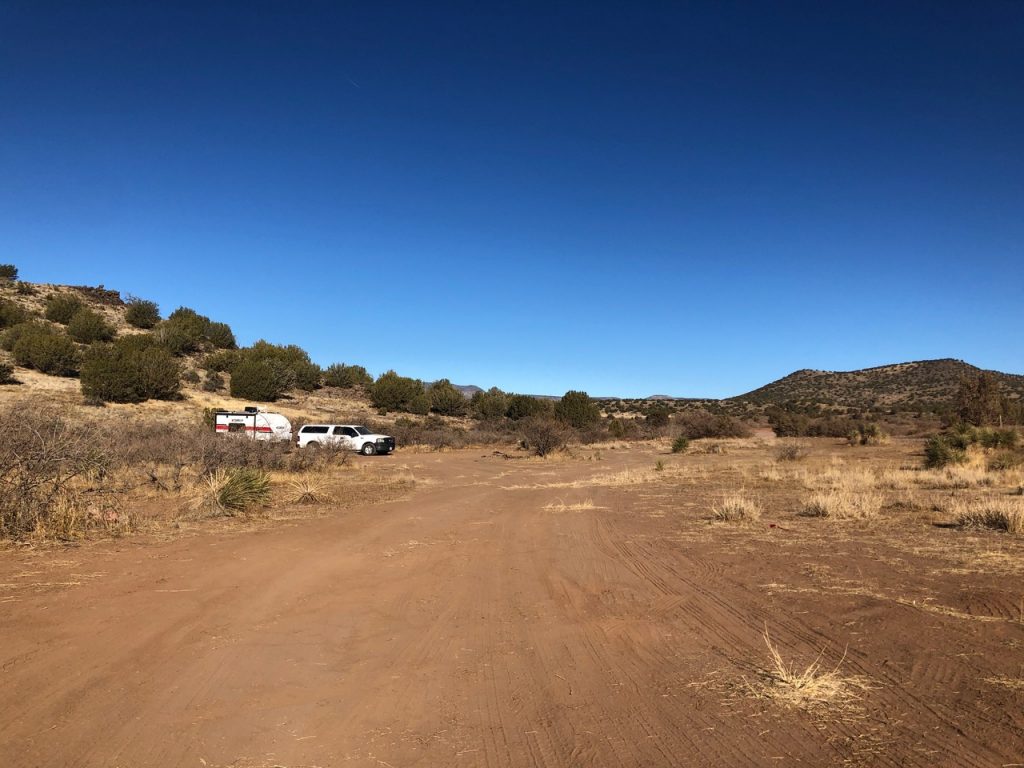 As the Rosses and their neighbor, Lauren Broberg, drove down 525 last week, they pointed to a large dirt clearing with assorted recreation vehi­cles sprinkled around it.
"A month ago that was grass," Dustin Ross said. A little further down the road, he pointed to another field of dirt and tamped down grass. "That used to be a little two-track [road] …. We call it the KOA [now]," a tongue-in-check reference to Kampgrounds of America.
The Rosses have the before-and-after photos to backup their reports of recently cleared acres.
Then of course there's the issue of trash. Bags of trash are sometimes left at campsites, they said, later torn into by coyotes or ravens. Danoff said he's
finding buckets of human waste at camping areas. At least it's in a bucket, he joked, since often feces and toilet paper are just covered with a rock.
The high demand for camping in the 525 corridor is evident in the poor quality of sites that campers are selecting; any ground a vehicle can get at least three wheels on is apparently in play. With dispersed camping rules, many of the marginal sites are techni­cally legal.
The exploitation of narrow drainage notches for camping dramatically illus­trates the pressure. The USFS periodi­cally cuts narrow ditches in the side of the road, cut at an angle to the direction of travel, in order to drain water from the road surface. Numerous drainage ditches along 525 have evolved into campsites or the entrances to new wildcat roads. Some have developed into substantial clearings in a matter of months, Dustin Ross said.
In a spot locals call "the triangle," a camping area has sprouted up in a small triangle of land formed by the intersec­tion of two forest roads, dangerously limiting visibility when vehicles are parked on it.
Shortly before press time, USFS placed a "no camping" sign on the spot.
OHV traffic is a separate, but related, problem, since illegal tracks created by OHVs can become the start of new campgrounds — and vice versa.
Danoff said that every unauthorized track west of Sedona is "growing like a tree root" as OHVers search out remote places. Danoff was not the only person to describe the growth of bare dirt in the foothills in organic terms.
"Parking lots sprout," Becki Ross said. To people who drive the roads regularly, roads and parking areas are growing as spontaneously as patches of prickly pear.